Extra Research for Season 6 – Episode 3 – Mother Dearest
The Dorchester jail, was built in early 1800 and served as a death row facility for the province until executions were ceased across Canada in 1962. The jail, not to be confused with the Dorchester penitentiary, has a dark history with at least one murder, one suicide and multiple hangings taking place within its walls.
Dorchester itself is a quaint village near the mouth of the Memramcook River valley, close to where the river meets Shepody Bay. Dorchester is an English-speaking community sitting next to several French-speaking Acadian areas farther up the Memramcook River valley.
Home to the last double hanging in New Brunswick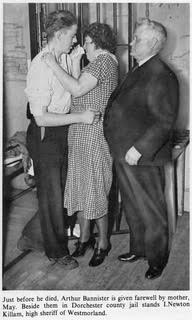 At 1:00 a.m., on September 23, 1936, 17-year-old Arthur Bannister and his 20-year-old brother Daniel, were executed– hung, side-by-side at the Dorchester jail – after being convicted of murder earlier that month.
The brothers were found guilty of killing Philip Lake, his wife Bertha, and one of their children in Pacific Junction, Westmorland County. Referred to as 'the backwoods tragedy' by media and gossiping neighbours and the 'most brutal mass slayings' in New Brunswick's history by The Halifax Herald.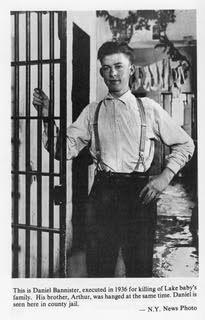 What came out in court was that murder, however, was not what the Bannister brothers originally intended to do. The triple homicide was actually a tragic end to a botched kidnapping that the brothers were asked to do at their mother's behest. Their mother, May, wanted the brothers to steal the Lake's five-month-old baby girl, Betty, in order to blackmail a wealthy businessman in Moncton.
It was reported that on the night of their execution Daniel was calm and Arthur was angry. And as they fell to their death in the gallows, Daniel offered a silent prayer to the sky. Since the family did not claim the bodies, they were placed in a single coffin and buried somewhere in the jail's yard.
– Jane Caulfield